PCC visits Bath and North East Somerset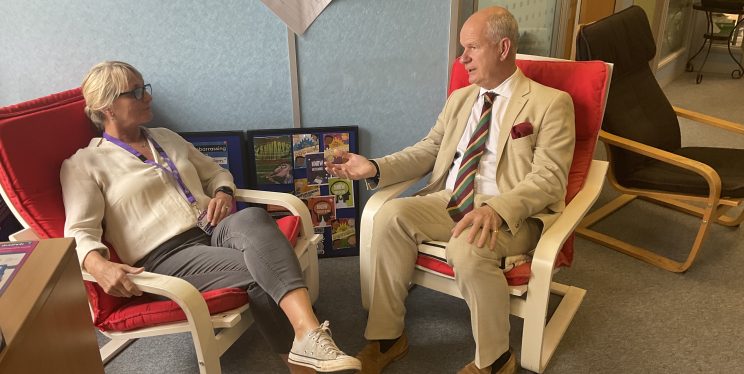 Last Friday (4 August), PCC Mark Shelford visited services and local community groups in Bath and North East Somerset, as part of his weekly Friday engagements across the Avon and Somerset area.
The PCC started the day with a custody visit at Keynsham Police Centre, meeting with Custody Officers to find out more about daily working life, areas of concern and opportunities for improvements.
During the visit, the staff who spoke to the PCC demonstrated great passion for their work. However, they also highlighted areas they felt needed some improvement to ensure work in the custody move smoothly for the benefit of all.
Following this, the PCC Mark Shelford visited P.E.O.P.L.E (Providing Ex-Offenders Positive Learning Environments), a charity based in Radstock. Its founder and Chief Executive Officer, Dr Jenny Clifford, explained the charity was set up in 2002 to offer support to low risk ex-offenders that have recently left prison.
The charity works across Bath and North East Somerset, Mendip and Somerset and offers supported housing to men who are over 25 years. Since 2005, they have accommodated over 110 people and receives on average 50 referrals per year for accommodation. They also provide advice on employment, benefit claims, education, and training, as well as many other activities that can assist in resettling people back into the community.
P.E.O.P.L.E also work with a local specialist school where they help facilitate young people aged over 16 with special education needs in work experience placements, providing them with the opportunity to gain retail sector experience. The charity also runs a book and coffee lounge, and this has become a welcoming hub for the elderly who feel socially isolated.
However, like many other charities, the organisation struggles to secure consistent to support its programmes which help to improve the lives of some of the vulnerable members of the community.
PCC Mark Shelford then visited Project 28 offices in Bath. Project 28 is a young people's drug and alcohol service run by the Developing Health and Independence (DHI) charity.
Liz Bryan, Young People's Service Manager at DHI Project 28 explained that they provide advice, guidance and one-to-one sessions for young people who are having problems with drugs and/or alcohol. The service is free and confidential and aim to provide a flexible and non-judgemental space for young people to be open about the problems they are facing. They also run sessions in schools to raise awareness and education on substance misuse.
They help by offering young people support and assessment around their substance misuse, employment and training needs and other 'soft' skills including:
Diversionary activities
Individual sessions
Sexual health advice
Groups
Open access
Healthy eating
The project has received funding from Safer Street Funding and the Violence Reduction Partnership.
"As ever, a huge thank you to the individuals and organisations who took time out of their day to meet with me.

"My engagement days are an opportunity for me to understand the different initiatives happening around Avon and Somerset that help to keep communities safe. It's also important for me to understand the challenges local organisations face and discuss how myself, my office and partners can support."

PCC Mark Shelford