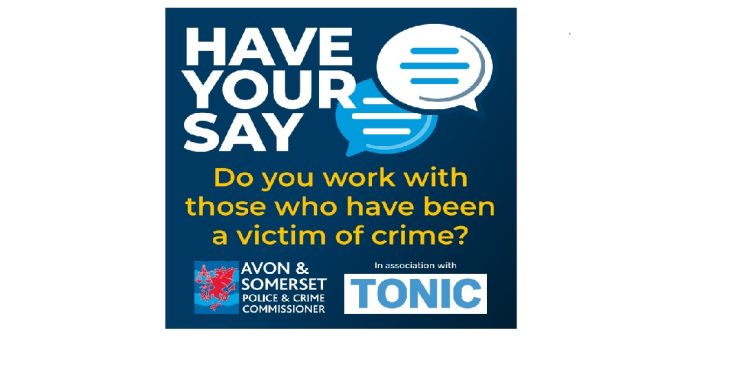 Last year, over 7,500 victims of crime accessed our commissioned support services across Avon and Somerset. The Office of the Police and Crime Commissioner (OPCC) are appealing to local professionals who work with victims of crime to share their opinion and help shape future commissioned victims' services.
The OPCC is in the early stages of the recommissioning process of victims' services. This consultation is aimed at professionals working with victims of crime (including anti-social behaviour) and will run until the end of September 2023. A separate engagement period specifically for victims of crime to share their thoughts and feedback for the recommissioning process will commence later this year.
Professionals, either working for an OPCC commissioned service, or elsewhere can provide their thoughts confidentially via an online survey or arranging an online interview with Tonic Consultancy, who are facilitating all the consultation activities. The findings will enable the creation of a report, which will broadly examine the needs of victims and survivors of crime and assess whether existing provisions meet those needs.
If you feel you can provide feedback on current service provision or, advise on how services can be improved, the OPCC implores you to complete the survey or schedule an interview with Tonic, below are the relevant details:
"We are continually working with partners to ensure that those affected by crime are receiving the right support. However, as we approach the recommissioning of victim's services, I am particularly keen to understand all the unique and evolving challenges faced by victims of crime through this consultation. This will help ensure we are commissioning the right services to meet the individual's needs.

"I would like to thank our current commissioned services for all their hard work and dedication to supporting victims.

"Together we can help shape support for victims of crime. Please complete the survey or arrange an online interview, where all feedback is confidential".

Deputy PCC Claire Hiscott
The services in scope for the recommissioning are:
• Emotional Support Service for Victims of Crime and ASB – provided by Victim Support
• Adult Advocacy Service – provided by Victims of Crime Advocacy Service (VOCAS)
• Children and Young People Support Service- provided by the Young Victim's Service
• Restorative Justice Service- provided by Resolve West
• Independent Sexual Violence Advocate service- provided by SafeLink
• Modern Slavery Support Service- provided by Unseen