PCC attends BBC Radio Bristol interview on Cybercrime and Fraud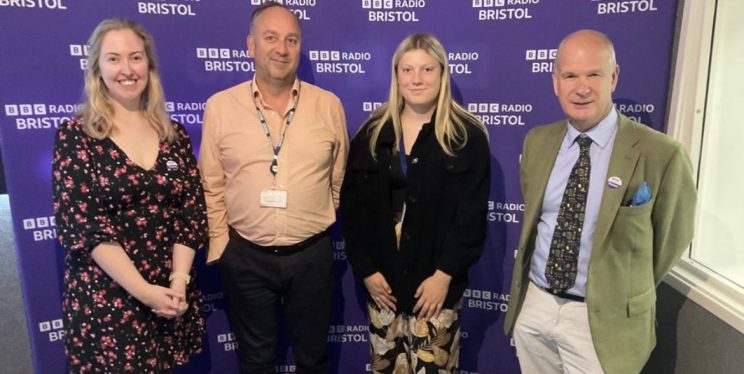 PCC, Mark Shelford and Cyber Protect Officer from Avon and Somerset , Megan Haldane were interviewed by John Darvall from BBC Radio Bristol, regarding the concern of fraud and cybercrime, on the 13th of September.
PCC Mark Shelford became the Association of Police and Crime Commissioners (APCC) national lead for Economic and Cyber Crime last summer after hearing Avon and Somerset's residents' concerns about this crime.
Earlier this month (13 September) the PCC and Cyber Protect Officer from Avon and Somerset Megan Haldane, spoke with John Darvall on BBC Radio Bristol. They discussed the huge concern around fraud and scams, including the recent reports of online criminals exploiting the current events that are going on in the world, such as the closing of the high street discount shop, Wilkinson's.
John Darvall reported that thousands of pounds are being taken from individuals, and they still feel like they can't report it or even tell their family, Mark responded that within the last year, it was estimated that sadly in Avon and Somerset £58.8 million was taken in fraud, with on average £8000 taken from each victim. He emphasised how important it is to "Take 5 minutes" and think about it, and if it feels "too good to be true", it probably is.
Megan reported that one of the biggest examples of online criminal activity was during the COVID-19 pandemic, as people were receiving text messages reporting to be the NHS Megan encourages everyone to "Take a step back" and think of what is being asked of them, and is it just a bit too convenient?
Listeners were also warned of scams that take advantage of thetime of the year. For example, at the end of the financial year, individuals get false reports saying they haven't paid enough tax.
John mentioned that criminals know that human nature is to help, and they take advantage of the people who are a bit more trusting.
Megan also reported that it's important to remember that if you do respond to communications, you haven't done anything wrong Even if you do provide money to the criminal, you have been manipulated and you are not at fault. However, lots of people do think they are silly for falling victim of fraud, but Cyber Protect Officer, Megan, likes to counter this and say "Did you fall for it, or were you pushed?".
BBC Radio Presenter, John, asked the PCC, "what resources Avon and Somerset Police are putting in place, and if fraud is the biggest crime, then surely it should have the biggest response?" The PCC responded by saying it is a "fair statement, but we can't do it all in one go".
Megan revealed how important it is to ensure that all fraud and cybercrime is reported to Action Fraud this service supports individuals who have fallen victim to this type of crime. The information provided on the report is incredibly important as it gets passed on to the National Fraud Intelligence Bureau who will match reports to others across the country working, building a bigger picture of what's going on.
If you think you've fallen victim of fraud, or would like further support visit Action Fraud.