Girls' Exploitation and Violence Awareness Conference  – 20th October 2023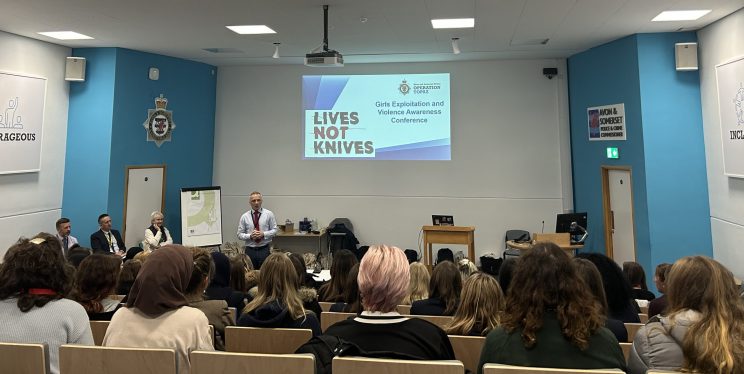 Last week Avon and Somerset Police (ASP) held a Girls Exploitation and Violence Conference in Avon and Somerset Head Quarters.
My role within the OPCC is Communication and Youth Engagement Apprentice for the Police and Crime Commissioner.
I attended the event, which was open to girls ages 13-16, as part of my youth engagement work.
I thought the conference was interesting and, most importantly, engaging for the young women who attended. It covered themes that are especially important to the younger generation growing up in today's society. For example, staying safe online; sexual violence; consent; the law and how to access support; exploitation and grooming; gang culture and radicalisation; and women in the police.
A passion of mine is young people having a voice and to be heard, and this conference allowed the attendees to learn about ways they can speak about their concerns, openly or anonymously. It also offered everyone the chance to take part in engaging activities to express their own thoughts and opinions on the topics and to meet other young people.
The conference covered subjects that a lot of young people find tricky to talk about. It encouraged open discussion and normalised the issues that are important to speak up about. It was interesting to see how many things were discussed that we wouldn't normally learn about in schools and enabled everyone to take away some amazing advice and contacts, if they are ever needed.
A huge thank you Androulla Nicolaou, Child Exploitation Prevention Officer and Coordinator at Avon and Somerset Police, for setting up this engaging and useful event, and all the speakers that attended offering some brilliant advice and educating talks.
– Darcey Warren, Communication and Youth Engagement Apprentice at the OPCC.
If you need support or want to report a concern, please see here:
To report an emergency call 999.
In non-emergency situations call 101.
Report via ASP's online form.
Report anonymously to crime stoppers, an independent charity, 24/7 via their online form or call 0800 555 111.
You can report cybercrime (e.g., online fraud, crime using computers and online scams) to the Action Fraud website or call 0300 123 2040.
If you feel unsafe in a particular area, you can report this to StreetSafe, you can pin point it on a map, in the exact area you want to report it.