PCC visits local community in central and north Bristol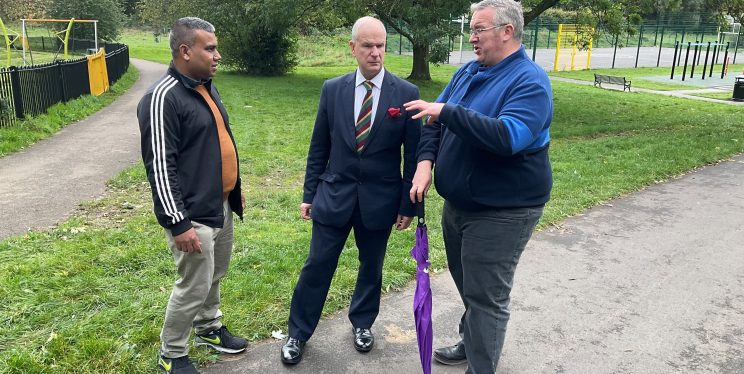 Last Friday (13th October), the PCC Mark Shelford was out in the Bristol community as part of his weekly Friday engagement activity.
The PCC joined local police officers to patrol the heart of St Pauls, calling into Jamaica street hostel and speaking with the homeless community.
They then continued onto Grosvenor Road. A location that has sadly experienced two fatalities. The most recent was Hubert Brown, who was 61 years old and died following a stabbing.  
Eddie Muthemba Kunuthia, was only 19 years old when he tragically died after being stabbed on Grosvenor Road in July 2023.
This community visit was an opportunity for the PCC to experience first-hand how local officers engage with the residents and the concerns they have within the area. 
After visiting St Pauls, the PCC travelled to Bristol North where he met with Mark Weston, Councillor for Henbury and Brentry. They discussed local crime, safety, and policing concerns in the area.
Among the issues raised by residents included shoplifting, reckless driving of e-scooters on roads and in the park, which causes residents to feel unsafe. The PCC also had a walk about talking to some of the shop owners along Crow Lane in Brentry.
Following this, the PCC met with Darren Jones MP for Bristol North-West on the Downs. They spoke about concerns expressed by residents from his constituency about anti-social behaviour on the Downs – specifically motorised bikes being driven at high speeds on the grass and paths, by people wearing balaclavas; the proliferation of 'overnight camping' on the Downs (in vans and caravans) and on neighbouring roads (Parry's Lane, Westbury Park); and other general safety concerns which make residents feel unsafe walking and running on the Downs.
Commenting on the two visits, Mark Shelford said: "I had the pleasure of joining police officers on their patrol in St Pauls. And meeting elected leaders in north Bristol who raised safety and ASB concerns. 
"I would like to provide reassurance to local residents that I have listened to these issues, and I will be working closely with the police and partners to explore ways in which we can address them."