PCC visits local community in Bath and North East Somerset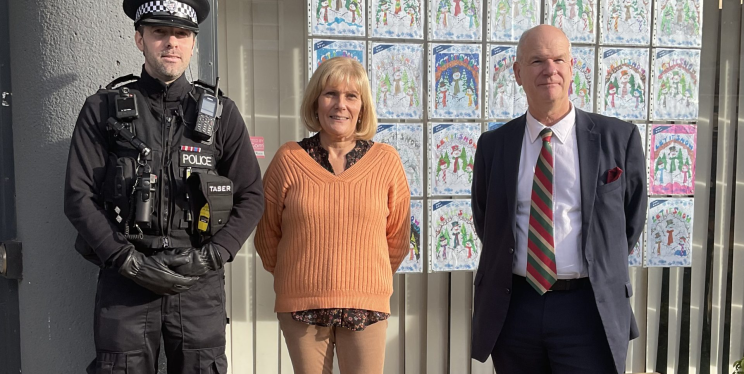 Dawn Drury (centre) Keynsham Town Clerk; PCC Mark Shelford (left) & Inspector Stuart King (right)
Last Friday (17th November), the PCC Mark Shelford was out in the Bath and North East Somerset (B&NES) community as part of his regular Friday Engagement activity.
The PCC started the day by meeting with Jacob Rees-Mogg MP for North East Somerset where they discussed concerns around Anti-Social Behaviour (ASB) and crime issues affecting the area, in particular shoplifting.
The shoplifting issue was reinforced by visiting some of the retail shops and supermarkets in Keynsham High Street. Shop owners and workers expressed concern that the unabated shoplifting makes them fear for their staff safety.
Keynsham Town Council Clerk, Dawn Drury also shared similar concerns about ASB and crime issues. A group of 20 boys aged 11-16 years, with about nine of them believed to be coming from outside the area are accused of causing persistent anti-social behaviour in the town, bike theft and regular shoplifting. Members of the community expressed safety concerns walking in the high street seeing a group of young people covering their faces in balaclavas and speeding on their e-bikes.
However, it was re-assuring hearing from the Town Clerk that a multi-agency meeting including the crime reduction team in B&NES, local Neighbourhood Police team, social workers, Project 28, Southwest connect, and Youth Team was held recently with agreement to set up a forum to help businesses in Keynsham. 
Following this, the PCC visited TimeOut Youth Centre, a Keynsham Town Council run youth centre which supports young people in the area.
Abigail Gray, Youth Development Officer for Keynsham Town Council, who runs the centre, highlighted the need for a multi-agency approach to support young people, some of whom are vulnerable and not in school.
TimeOut Youth Centre runs weekly drop-in sessions on Wednesdays, Thursdays and Fridays. The free sessions include cooking, baking, music studio recording, pool, table tennis, computers for internet use, gaming, arts and crafts and other activities during school half term and summer holidays. 
The PCC then went on to visit retailers in Bath, among them Sumptuous Designerwear to discuss crime related issues, ASB and how to work together with the police to address these challenges.
Commenting on the visits, the PCC Mark Shelford said:                 
"I had the pleasure of meeting with the MP, Town Clerk, youth workers and retailers. They raised concerns around anti-social behaviour and shoplifting and gave some suggestions of what can be done.
"I would like to provide reassurance to retailers and local residents in Keynsham and Bath that I have listened to these concerning issues and am working closely with the police and partners to explore ways in which we can work together to address them."