Avon and Somerset Violence Reduction Unit
Welcome to the Avon and Somerset Violence Reduction Units (VRUs) online hub.
What is Violence Reduction Unit?
Violence Reduction Units (VRU) form part of the Home Office's targeted approach to serious violence. They are the multi-agency delivery body for areas across England and Wales most affected by serious violence.
Each VRU brings together essential partners to reduce local violent crime and address the underlying causes. The VRUs are understand the local needs of the area and identify where and how interventions would be most effective.
---
Public Health Approach
The Avon and Somerset VRUs are taking a public health approach to violence reduction. This means that the focus is on understanding the causes of violence, and the reasons why people get drawn into a life of crime.

The public health approach to violence prevention for England report states that "violence is not something that just happens, nor is it normal or acceptable in our society. Many of the key risk factors that make individuals, families or communities vulnerable to violence are changeable, including exposure to adverse experiences in childhood and subsequently the environments in which individuals live, learn and work throughout youth, adulthood and older age. Understanding these factors means we can develop and adopt new public health based approaches to violence. Such approaches focus on the primary prevention of violence through reducing risk factors and promoting protective factors over the life course." More information on the public health approach can be found here.
Serious violence destroys lives; repercussions span beyond those immediately affected to subsequent generations. Tackling serious violence is a priority for the Government, who have allocated funding to Police and Crime Commissioners across the Country.

In 2019, the Government awarded funding to the Avon and Somerset Office of the Police and Crime Commissioner (OPCC) to build and oversee an effective multiagency VRU, to help coordinate a local partnership response to serious violence.
---
What is Serious Violence?
The Government is concerned about recent increases in homicides, gun crime and knife crime. These offences – homicides and knife and gun crime – account for around 1% of all recorded crime, but the impact of serious violent crime on society is significant. There is a huge cost to individuals, families and communities through loss of life, and the trauma caused through both the physical and psychological injuries suffered. That is why tackling serious violence is a Government priority.
The Home Office serious violence strategy, scopes serious violence with specific types of crime such as homicide, knife crime, and gun crime and areas of criminality where serious violence or its threat is inherent, such as in gangs and county lines drug dealing. It also includes emerging crime threats faced in some areas of the country such as the use of corrosive substances as a weapon.
---
Avon and Somerset Hub and Spoke Model
The OPCC created a Hub and Spoke model for the Avon and Somerset VRU, with the OPCC being the Hub and five local VRU areas making the Spokes. The Spoke areas are:
Bath and North East Somerset (BANES)
Bristol
North Somerset
Somerset
South Gloucestershire
The diagram below shows the Avon and Somerset hub and spoke model.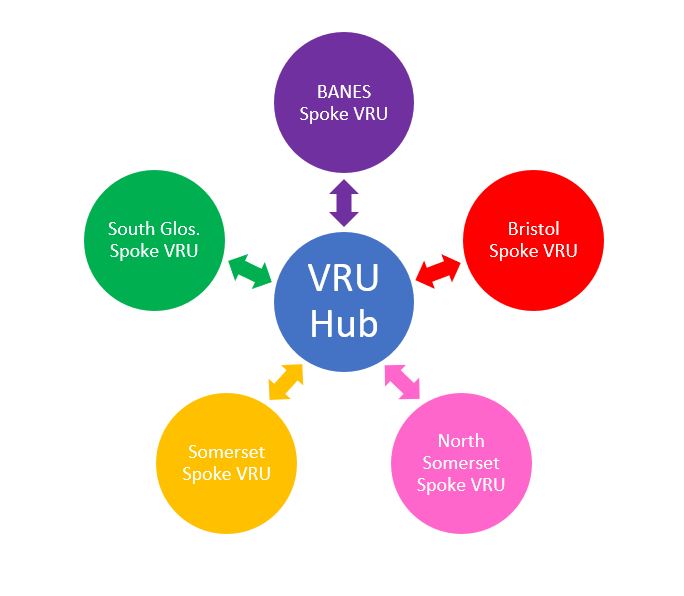 The OPCC hub offers a central coordination function, in overseeing all 5 spokes, coordinating the Home Office grant allocation and ensuring that Avon and Somerset is meeting the objectives of the public health approach to tackling serious violence.
Each local authority VRU has a dedicated coordinator and police officers lead by a Sergeant. All VRUs have used a multi-agency partnership approach, working closely with various services including their Local Authority, Social Care, Health, Education, Youth Justice, and Probation Services. Together these partnerships identify risk and vulnerability; in doing so they work to address the underlying causes of violent crime, deliver bespoke care plans, offer specialist interventions and/or work with the family or education service to ensure diversion is achieved.
This multi-agency approach is based on the findings of the Developing a Serious Violence Strategy for Avon and Somerset Report (PDF).
Each local VRU produces its own individual Strategic Needs Assessment or Problem and Response Strategy. These strategies, along with other partner data, formed our Avon and Somerset Serious Violence Strategic Needs Assessment which helps inform the direction of our work.
In 2020-21 an external evaluation was conducted on the efficiency and effectiveness of the VRU hub and spoke model in Avon and Somerset. The evaluation concluded that it was an appropriate approach for Avon and Somerset, primarily due to the importance of enabling localised responses needed, to tackle serious violence across a geographically diverse area.
The Avon and Somerset VRUs are now well established with their networks constantly growing, engaging with more young people and gaining a clearer understanding of what matters to the community. The VRUs continue to work in partnership to keep young people safe.

Avon and Somerset police are working to develop specialist roles and data analytics to identify those most vulnerable to serious violence.
---
The Avon and Somerset 2021/22 VRU Achievements
Avon and Somerset VRU partnership work to tackle serious violence has resulted in:
3,469 Young people receiving universal intervention through schools' programmes
3,269 contacts made with young people through detached outreach
923 Young people at risk of serious violence discussed at multi-agency VRU meetings
851 Young people at-risk or involved in violence have received targeted interventions
727 professionals have received training on trauma-informed practice (as well as 78 attending further training for managers/supervisor)
---
The Avon and Somerset VRU
Strategic Governance Group
The Avon and Somerset Violence Reduction Strategic Governance Group, is the overarching strategic board and is made up of various key partners. The group oversee the creation and completion of projects and themes of work crucial to tackling serious violence in the area.
---
The Avon and Somerset VRU Background
Over 1,000 serious violence offences are reported to Avon and Somerset police every month, at significant social and economic cost.
In June 2019, the Avon and Somerset Office of the Police and Crime Commissioner (OPCC) was awarded £1.16million from the Home Office Serious Violence Fund, to set up a Violence Reduction Unit.
---
Reports
---
Contact
If you a young person who requires specialist support or advice relating to serious violence. Or you have concerns for a family member or friend, please click on the relevant VRU link above for contact information. In an emergency please always call 999.
If you are a young person who has information on a crime that you would like to report 100% anonymously, please go to Fearless.org. The same website can offer non-judgemental information on a specific crime.
If you have information on a crime and would like to report it 100% anonymously, please contact the charity CrimeStoppers on 0800 555 111 or online Crimestoppers-uk.org. They only want to know what you know, not who you are.