PCC wants more victims to #BeHeard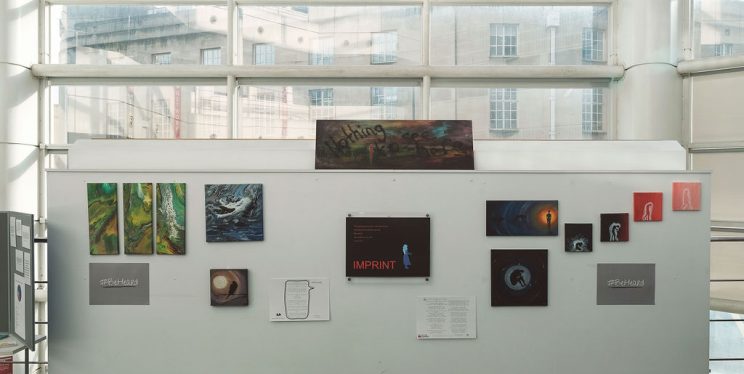 There is 1 related update to this story
A survivor of childhood sexual abuse has added her voice to an art exhibition created by people who have been helped by victim support services commissioned by PCC Sue Mountstevens.
The pieces of art, created by just some of the 2,000 people who have been helped on the road to recovery by the services since they were commissioned in April 2019, range from paintings and sculptures to poems and craft pieces. Support workers from the victim services have also contributed artwork to show their understanding of the victim experience.
The aim of the exhibition and wider campaign is to make people aware that if you are a victim of crime there is advocacy, emotional and psychological support available whether you choose to report that crime to police or not, no matter how long ago it took place.
Survivors hope that #BeHeard will encourage others to speak out and assure them there are people who will hear them, understand them and be there every step of the way.
"If I didn't have my supporter, I probably wouldn't have been able to cope. She was phenomenal. I'm now living a normal life again and have strategies and coping mechanisms."

Survivor supported by Victim Support
PCC Sue Mountstevens also wants to highlight the fantastic work of the people working in those services and the impact it is having on the lives of people who have had difficult and sometimes traumatic experiences.
The exhibition was officially opened by Victims Commissioner Dame Vera Baird on Tuesday (January 28) at Bridewell police station. It will be displayed there for a week then move to Police and Fire HQ in Portishead to increase officer and staff awareness of victim experiences and highlight what can be offered to support victims.
"I was in a very isolated place following my sexual assault. I couldn't talk to anyone about it and my family did not know what to say or do. Until I found Safe Link. Without them, I would not be where I am today; I would have left my job and be in a very poor state of PTSD. They gave me strength and hope."

Survivor supported by ISVA service SafeLink
PCC Sue Mountstevens said: "Since becoming PCC in 2012, it has been a priority of mine to put victims first. The art created by these courageous survivors show their recovery journey and experiences, and I am amazed at their talents and how far so many of them have come.
"#BeHeard celebrates and raises awareness of available services for victims of crime and anti-social behaviour who often do not know where to turn. It is important that victims know it is never too late to come forward. We want you to be heard and want you to know that help and support will always be available."
"Five years have gone by since the incident that changed all of our lives. After such a long time, I wasn't expecting any miracles to take us back to how it was before. But with the help of the facilitators, we have broken the ice and are slowly building bridges to a more positive future. A great service for mending broken lives."

Victim supported by Resolve West
The #BeHeard exhibition is part of a month-long campaign that includes guest blogs from services, case studies from victims who have used the services and Q&A videos from those who work for the victim providers.
Report it
If you or someone you know is at risk of domestic abuse or sexual violence, please speak to someone:
Support for victims and survivors
Help is available whether you report to the police or not, and no matter how long ago the crime took place. Find out more about local support services.