Tune in live to watch PCC hold Chief Constable to account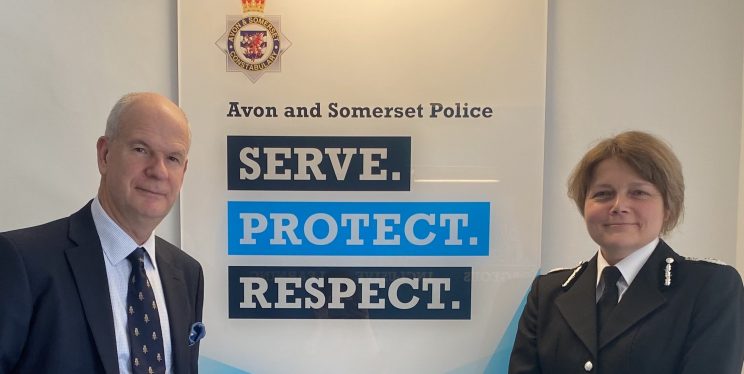 PCC Mark Shelford's second Performance and Accountability Board will be broadcast live tomorrow (Thursday August 4).
The Performance and Accountability Board is a meeting that sees the PCC hold Chief Constable Sarah Crew to account for delivering policing that is efficient and effective by scrutinising and asking questions about police performance and priorities in Avon and Somerset.
The August broadcast will see the PCC raise local people's policing and crime concerns with the Chief Constable on the subjects of busy summer demand, Avon and Somerset's response to the national Police Race Action Plan, as well as asking for a progress update on the Identifying Disproportionality report recommendations.
The PCC will also ask the Chief Constable what activity is taking place to improve Avon and Somerset Police's performance against both local and national police and crime priorities.
The PCC and Chief Constable will also discuss the police super-complaint regarding police perpetrated domestic abuse.
It is a statutory duty for the PCC to hold the Chief Constable to account and for delivering an efficient and effective police service for all our communities.
PCC Mark Shelford: "The Performance and Accountability Board is another opportunity for local people and partners to watch the Chief Constable and I openly discuss a broad range of policing issues.

"As PCC, I am the voice of local people in policing and it is important that Avon and Somerset Police publicly demonstrate accountability and value for money for the service for local people. I will put questions to the Chief Constable about the force's performance, ongoing work to deliver recommendations outlined in the Identifying Disproportionality in the Criminal Justice System report and policing and crime concerns raised by local people."
The Board will take place every quarter with the next oversight meeting taking place in November.
If you miss the live broadcast, you can watch back at a later date on the PCC's website.
Local people can contact the PCC and the Office of the Police and Crime Commissioner (OPCC) with concerns or questions via the OPCC website: https://www.avonandsomerset-pcc.gov.uk/contact/contact-us/
We welcome any feedback on the issues discussed at the Board or on the format of the Board itself.