The Avon and Somerset VRU Governance Group
The Avon and Somerset 'Violence Reduction Strategic Governance Group', is the overarching strategic board which oversees the five Violence Reduction Units (VRUs) governance of delivery and performance.
The five VRU local authority areas are:
Bath and North East Somerset (BANES)
Bristol
North Somerset
Somerset
South Gloucestershire
The Governance Group is made up of various key partners, who oversee the creation and completion of projects and themes of work crucial to tackling serious violence in the area.
The below diagram demonstrates how the Strategic Governance Group overarches the five VRUs.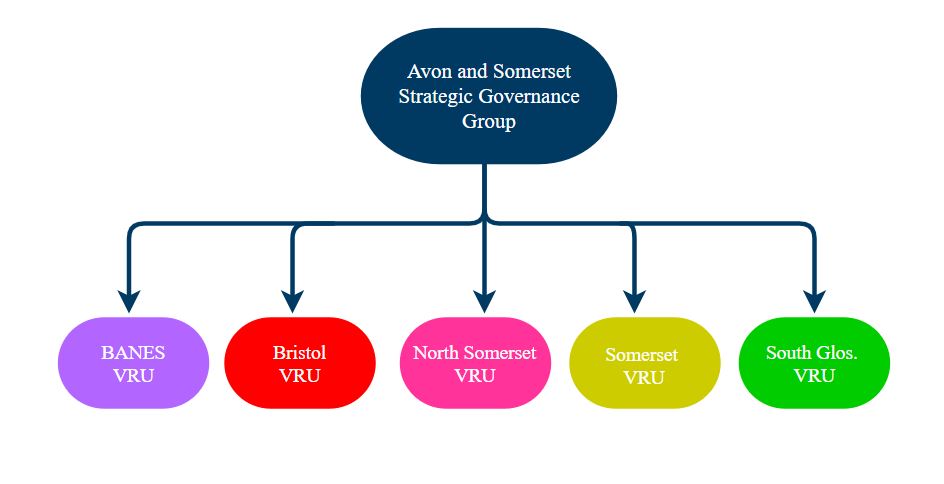 ---
Strategic Board Partners
Each strategic board partner has committed to the Terms of Reference, outlined their commitment and has a specific role on the board. The strategic board partners include:
Avon and Somerset Police
Barnardo's (voluntary sector representative)
Each of the five Violence Reduction Units (VRUs)
Education
Fire Service
Integrated Care Boards (ICB's)
National Probation Service (NPS)
NHS England and NHS Improvement
Office for Health Improvement and Disparities (OHID)
Office of the Police and Crime Commissioner (OPCC)
Youth Offending Service (YOS)
---
Strategic Board Aims
The strategic board primarily offers high-level direction and oversees the delivery and performance of the five VRU 'spokes'. It has been chaired jointly by the OPCC's 'Head of Commissioning and Partnerships' and the Avon and Somerset Constabulary 'Assisting Chief Constable Serious Violence lead'. Through quarterly meetings the board aims to:
Give strategic direction for the development of the Avon and Somerset VRUs, avoiding duplication with other work streams.

Offer synchronisation across partners' violence reduction activity where required.

Ensure that the VRUs follow a public health approach and adhere to the Serious Violence Statutory Duty.

Oversee performance and delivery of VRUs, including spend of the Home Office VRU grant and any additional associated funding.

Ensure that delivery is informed by regular review and evidence led approaches.

Ensure compliance with Home Office reporting requirements.

Seek to understand and resolve issues that require force-wide resolution or are strategic systems change/infrastructure issues e.g. data/intelligence sharing arrangements/agreements.

Ensure that the diverse voices of Young People and communities are considered in any strategic decision making.

Monitor risks to the project via the risk register.

Link with work being done locally to meet the requirements within the Police, Crime, Sentencing and Courts Bill and other relevant legislation and government led strategies.
---
Strategic Board Priorities for 2022/23
The strategic board refined their priorities for 2022/23 and developed a set of six key themes:
Leadership and system change
Data, evidence and evaluation
Risk identification and understanding need
Intervention and prevention
Community and youth engagement
Criminal justice and disruption
---