PCC celebrates one year in role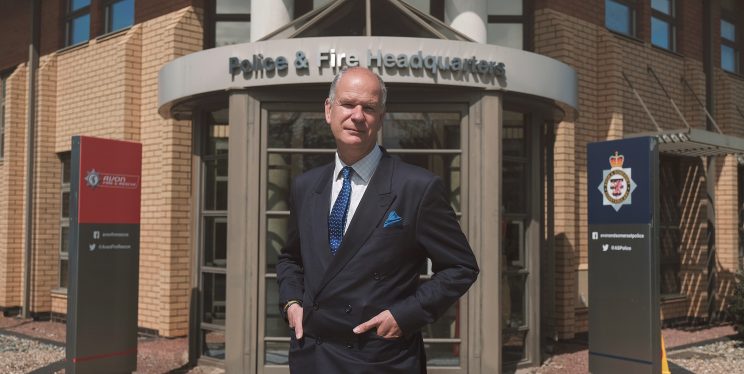 Mark Shelford is celebrating one year since local people elected him to be the Avon and Somerset Police and Crime Commissioner (PCC).
Elected on 7 May 2021, PCC Mark Shelford has been reflecting on the achievements of the last year including the publication of the Police and Crime Plan, the appointment of Chief Constable Sarah Crew and the increase in the policing part of the council tax following a successful consultation with more than 5,600 responses from local people.
With the support of the Office of the Police and Crime Commissioner (OPCC), the PCC has also secured over £1million in funding for Independent Domestic Violence Advisors and Independent Sexual Violence Advisors as well as over £100k of additional funding sexual violence and domestic abuse services.
Mark has supported the launch of the Identifying Disproportionality in the Criminal Justice System report and, since being elected, the PCC has also become the Association of Police and Crime Commissioner's national lead for Economic and Cyber Crime and the Chair of the Local Criminal Justice Board.
Mark is also looking to the future and moving forward with his plans for the rest of his term to support his four Police and Crime Plan priorities including:
Preventing and fighting crime
Engaging, supporting and working with communities, victims and partner organisations
Leading the police to be efficient and effective
Increasing the legitimacy of, and public confidence in, the police and criminal justice system
Yesterday (Thursday 5May), Mark's first Performance and Accountability Board was broadcast live for local people and partners to watch as he discharged his duty to scrutinise and hold Chief Constable Sarah Crew to account for delivering effective policing across the force area. The live broadcast can be watched back on the PCC's website.
"What a year! I have enjoyed every single day, week and month since being elected in May 2021.

"I want to say a massive thank you to the OPCC team for their support over the last 12 months in helping me to deliver the Police and Crime Plan, increase the precept and appoint Chief Constable Sarah Crew.

"There's still plenty of work to be done including continuing to ensure Chief Constable Sarah Crew is delivering policing that is efficient and effective; meeting with local people and partners – particularly residents in rural areas – to hear about their policing concerns; and progressing work on the national Economic and Cyber Crime portfolio.

"In addition, my team and Avon and Somerset Police will continue to work towards delivering the policing and crime objectives set out in the Police and Crime Plan including: preventing and fighting crime; engaging, supporting and working with communities, victims and partner organisations; leading the police to be efficient and effective; and increasing the legitimacy of, and public confidence in, the police and criminal justice system.

"I'm very much looking forward to the year ahead and seeing what we can be achieved for the local people of Avon and Somerset."

PCC Mark Shelford